Our Services
From alterations to dry cleaning, we provide high-quality services at unbelievably low prices.
Dry Cleaning
We offer a great dry cleaning service with a fast turnaround to meet your needs. For our dry cleaning service, we use hydrocarbon, an environmentally friendly dry cleaning solution. Hydrocarbon looks and feels wet but does not contain any moisture.
Learn More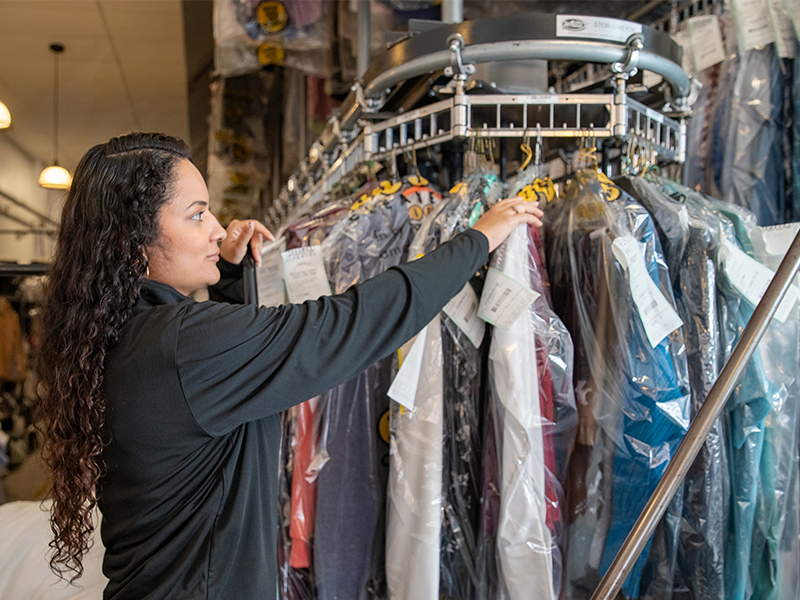 Laundered & Pressed
Our proprietary detergents clean and sanitize your button down shirts, lab coats and aprons. Each are starched based on your preference and then finished on our state-of-the-art presses.
Learn More
Outerwear
We offer an array of outerwear cleaning services with a fast turnaround to meet your needs.
Learn More
Wash N Fold
Wash N Fold is a service for items that do not require pressing or hangers. ZIPS will wash, dry, and fold your garments and then neatly package them for you to take home!
Learn More
Household Items
At ZIPS, we clean more than just clothes. Bring in your household items for cleaning, and we will provide a fast turnaround to meet your needs. From sleeping bag cleaning to comforter cleaning, and more, ZIPS is here to help.
Learn More
Alterations
We offer an array of clothing alteration services at select locations with a fast turnaround to meet your needs.
Learn More
EZ DropSM
We offer an array of convenient dry cleaning services to meet your needs. Learn more about our EZ Drop cleaning services below.
Learn More
Dropoff & Pickup Lockers
We offer convenient locations for you to drop off your laundry and dry cleaning at any time, so No need to worry about making the drive or even whether we're open!
Learn More
"Very good customer service. The employees are very friendly and they make the best effort to make your visit great every time. I would recommend ZIPS to all my friends."
"I've never been one to take lots of clothes to the dry cleaners, but ZIPS has changed my mind! Couple excellent customer service with amazing care and detail to dry cleaning your clothes, and you have ZIPS in a nutshell. I'll be back next week, if not sooner!"
"Very good. Efficient, timely, good prices, excellent work here. I would recommend this place in a heartbeat. All of my clothes were cleaned exceptionally well."
-David K.
"I went here to have a jacket dry cleaned after a co-worker mentioned ZIPS dry cleaned affordably. Another place quoted me at $10 and one quoted at $27. Obviously, I tried ZIPS. Customer service was fast and friendly."
"I have to confess, I couldn't believe I paid less than $8 to clean a dress and a pair of pants. The next day, I got an email when my things were ready for pick-up. I showed up, and all I had to do was show my ZIPS key tag–didn't even have to say my name or give my phone number. They scanned both my card and my things and I was ready to go."