About Us
Believe the hype. We're everything your dry cleaner should be.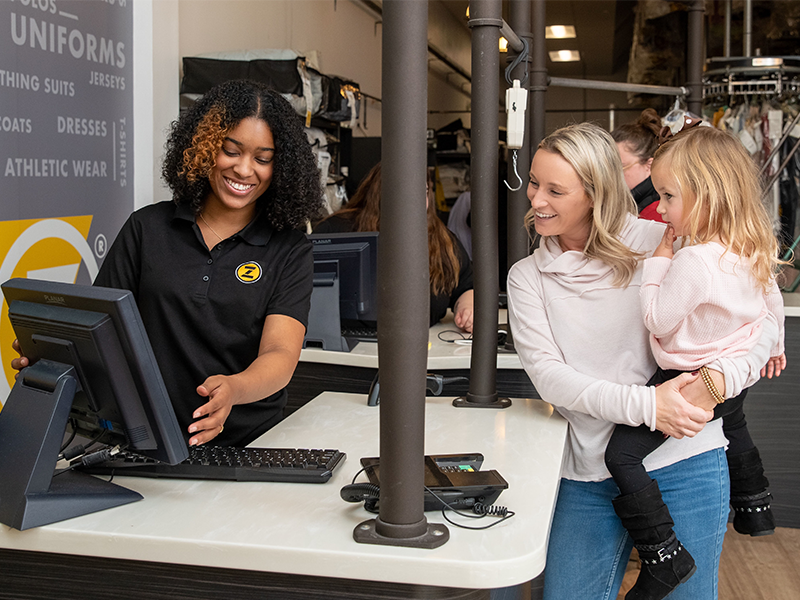 Convenient. Affordable. Fast.
ZIPS started out as eight separate dry cleaners in the Baltimore-Washington, D.C. area. In 2002, the stores united with the goal of providing a revolutionary dry cleaning experience that maintains high-quality services at one low price for any garment.
Since then, ZIPS has expanded to over 65 locations across the country. We clean over 20 million garments for more than 500,000 customers every year, and we look forward to serving more customers every day!
The ZIPS Customer Pledge
The ZIPS Difference
The difference is our passion for providing high-quality dry cleaning at unbelievably low prices. We've streamlined every part of the dry cleaning process, cutting costs and cleaning times to provide the best possible service at the best possible price.
Get Any Garment Dry Cleaned
We'll say it louder for the people in the back: ANY GARMENT .
In by 9, Out by 5
Get your dry cleaning to us before 9am, we'll have it back to you the same day by 5pm at the latest. Garments dropped off after 9am will be ready by 5pm the very next day. And we'll email you if it's done earlier, because time is money and we intend to save you a lot of both.
Doing Our Part for the Environment
We've been going green since way before it was cool. We're always finding new ways to reduce our environmental impact. We're leading the industry in our quest, because when it comes to the environment, we don't mess around.
Every location operates a hanger recycling program. We're committed to keeping hangers out of landfills. Our plastic bags are 100% recyclable. We know you don't need each garment individually wrapped or tissue paper in the sleeves – a well-cleaned garment is a well-cleaned garment, no matter how it's presented for pick up. That's the kind of frilly excess we've eliminated to keep our prices incomparably low. Plus, we strive to continuously cut our waste and water usage every year.
ECO FACT:
3.5 billion hangers end up in landfills every year. We can't stop using hangers, but please bring them back to us instead of throwing them away.
Americans throw away more than 100 billion plastic bags each year. Our stores use one environmentally-friendly, recyclable plastic bag for every 5 shirts.
Take a Look Behind the Seams
Like a well-oiled machine, we put every item received through a system of checks and balances. Unlike many of our competitors, we clean most of our garments on-site and rarely outsource work. This enhances the customer experience by minimizing chances for lost or damaged clothing.
But we leave the heavy lifting to the real machines, our cutting-edge technology and equipment. It all starts with the POS system we designed and developed ourselves. Not only does it assist with balancing transactions, but it also helps us track garments and manage the cleaning process altogether.
Streamlining every task, from customer check-in and check-out to sorting and tagging, simplifies day-to-day operations for everyone — customers, employees and franchisees.
ZIPS Commitment to Clean
At ZIPS, we are proud to be recognized as an essential service, and we remain open to serve our many loyal customers. High heat kills viruses and bacteria, and ZIPS Dry Cleaning uses high temperatures and specialty detergents to ensure your items are thoroughly cleaned and disinfected. We have all the recommended measures in place to make sure you are safe when visiting our stores.
ZIPS adheres to all CDC guidelines, ensuring we are proactive in our response to COVID-19.
ZIPS stores are equipped with counter guards and sanitizing stations to further ensure your safety.
All this adds up to what we in the biz call "The Real Deal".
Got questions? We have answers.
Will you do as good a job as the more expensive dry cleaner down the street?
But how can you deliver quality dry cleaning at such a competitive price?
How can you deliver in one day what takes another dry cleaner three days or more?
Hey, what about the environment?
"I have always been very happy with the quality of the work, quick turnaround time, and cost of ZIPS. I will admit with the low prices and quick turn around time listed, I was initially skeptical when I first started using their services. Now nearly a year later, I can safely say that I was pleasantly surprised to find such a convenient and affordable place."
"I have to confess, I couldn't believe I paid less than $8 to clean a dress and a pair of pants. The next day, I got an email when my things were ready for pick-up. I showed up, and all I had to do was show my ZIPS key tag–didn't even have to say my name or give my phone number. They scanned both my card and my things and I was ready to go."
"I went here to have a jacket dry cleaned after a co-worker mentioned ZIPS dry cleaned affordably. Another place quoted me at $10 and one quoted at $27. Obviously, I tried ZIPS. Customer service was fast and friendly."
"I've never been one to take lots of clothes to the dry cleaners, but ZIPS has changed my mind! Couple excellent customer service with amazing care and detail to dry cleaning your clothes, and you have ZIPS in a nutshell. I'll be back next week, if not sooner!"
"Very good customer service. The employees are very friendly and they make the best effort to make your visit great every time. I would recommend ZIPS to all my friends."
ZIPS Didn't Invent Dry Cleaning.
We Perfected It.